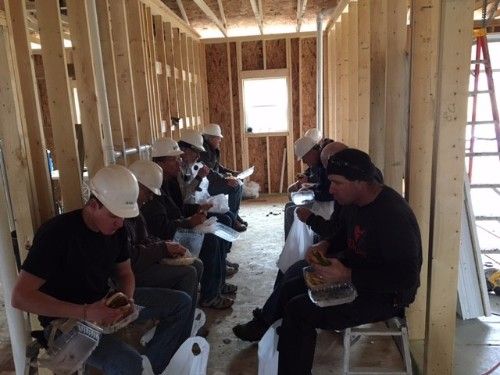 We are so grateful for the support we have received from area companies over these many years who have helped our homeowners fulfill the simple wish of safe, decent, and affordable housing. Through volunteer labor, management expertise, and tax-deductible donations of money and materials, Habitat Lincoln is able to provide a hand- up to those who otherwise could not afford a new home or repairs to their current residences.  
We are able to fulfill our mission and remain sustainable by utilizing an all-volunteer construction crew. Every Tuesday, Thursday, Friday and Saturday, we are blessed to have a regular crew of 12 volunteers who are joined by community individuals and groups. As our way of saying thanks we provide these hardworking, selfless individuals with lunch. That is where you come in: Lunch Provider.
Becoming a Hospitality Volunteer with Habitat Lincoln is an investment that has the power to build a stronger community. This is an opportunity to show your support for affordable housing in your community. It can be as simple as once a year, once a quarter or even every month. 
FAQ
How many people would I be feeding? Lunch group sizes usually consists of 10-12 people. However, on larger build days, like wall raising ceremonies, we can have 15-25 people.
What days would I provide lunch? We build on Tuesday, Thursdays, Fridays or Saturdays. Lunch break is at 11:30 a.m.
Would I take the lunch to the construction site? Yes, most lunch providers deliver the food to the lunch site and join the crew for lunch. If this is not possible with your schedule, we can assist with the delivery.
How far ahead do you schedule for lunch? We coordinate lunch providers at least a month in advance. We provide a reminder a week in advance with information regarding the number of volunteers. We also call during the scheduled week with the construction address.
What does lunch include?  Lunches typically include a main dish, side item, dessert and drink. Examples have included: sandwich, chips, cookie or casserole, side, and brownies.
Do I have to make the lunch?  No, you can bring a homemade meal or cater in a meal. We have worked with Stauffers and Famous Dave's BBQ who donate lunch on a monthly basis along with a number of other restaurants, churches and business groups. 
Is my meal donation tax-deductible? Yes, we provide an in-kind tax receipt for your tax records. You will also be listed in our annual Gratitude Report.
For more questions on becoming a Hospitality Volunteer, please contact our volunteer department at (402) 480-6219.
2019 Lunch Providers