What is a Faith Build?
A Faith Build brings local churches together to raise walls, funds, and prayers to build a house in partnership with a family in your community. 
It's an opportunity to live out your church's ministry, engage your congregation and see the miracle that occurs when God touches the hearts of new homeowners and the volunteers who worked alongside of them. 
---
Thrivent Faith Build 2020
Put God's Love Into Action. Habitat for Humanity of Lincoln and Thrivent have partnered to help make affordable housing and better communities a reality for families in Lincoln and Lancaster County. We invite your congregation to be part of Faith Build.
This year, Thrivent Financial has awarded us with a $80,325 challenge grant to cover half the cost of a Habitat home. With your help, we can raise the other $80,325 needed to complete the build.
Ezana & Addis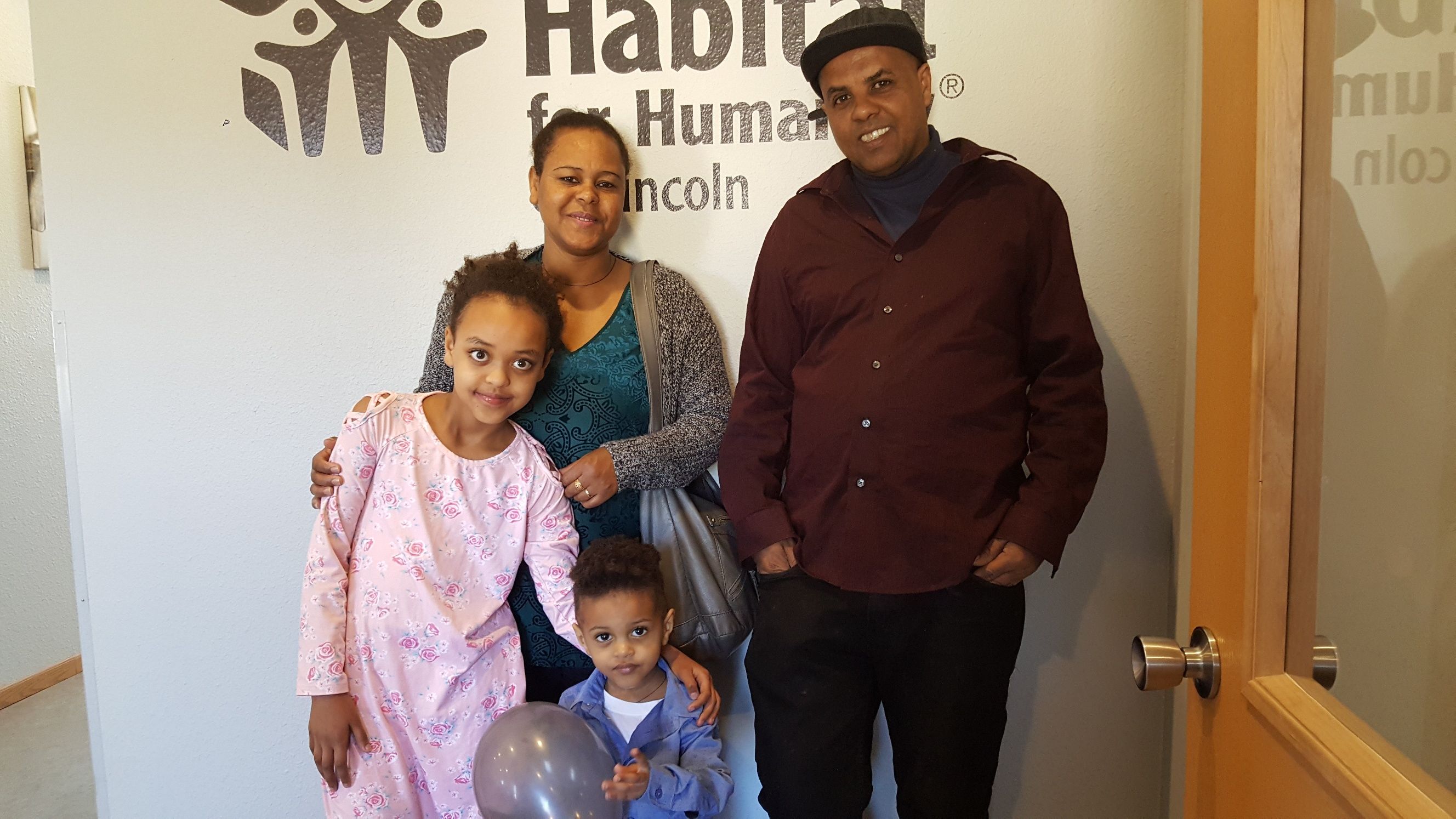 The 2020 Faith Build is the future home of Ezana & Addis. Ezana, Addis and their two children: daughter, Yabsra and son, David, have lived in a tiny one-bedroom apartment for the last three years. Their apartment is the size of an efficiency apartment and has become more difficult to live in as the children have grown. As they continue to grow, the children need their own space and quiet place to study.
Yabsra and David love playing outdoors and riding bikes, but there is no outdoor play area or green space at the apartment. Due to security concerns, the family stores their bikes inside their apartment, which makes things even more crowded.
The apartment is located across the street from their daughter's school, but this convenience translates to concerns for safety with lots of pedestrian and car traffic.
Ezana works for Agility Fuels Solutions and Ubers on the weekends and Addis works at Super8. The family is looking forward to having a backyard for the kids to play safely and a neighborhood to make lots of friends.
---
Faith in Action
How to get involved in Thrivent Faith Build 2020: 
Churches commit to becoming a partner in the Faith Build
Congregation members generously volunteer their time, choosing to help with construction - or non-construction activities 

Organize a volunteer day
Provide lunch for on-site workers
Create a welcome basket or special items for the homeowners
Utilize a Thrivent Action Team
Participate at ground-breaking and dedication events
Pray for the Faith Build (suggested Bible readings)

Congregations participate in the Faith Build Generosity Challenge:

Thrivent provides up to 50% of the home cost
Churches are challenged to match the remaining home cost (pledge form) 
Contact: Dani Vallis, Volunteer & Community Outreach Coordinator, at 402-480-6219 or dvallis@lincolnhabitat.org
More Information Coming Soon!
---
Thank you to our 2019 sponsors for making dreams come true
Thrivent Financial
American Lutheran Church (Fairbury, NE)
St. Mark's United Methodist Church
Sheridan Lutheran Church
Saint Luke United Methodist Church
Saint Paul's United Methodist Church
First Plymouth Church
First Mennonite Church
United Lutheran