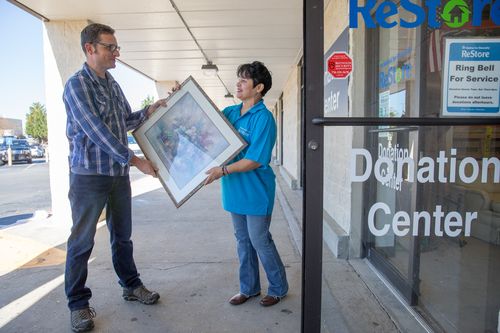 After reading the newspaper this weekend, an article from Angie's List reminded me of the impending fall cleaning projects I needed to accomplish inside and outside. As the long days of winter are on the horizon, we will be spending more time inside. This is the perfect time to do a deep clean – and maybe find sometimes you can donate to ReStore!
Here are the main points of the article:
Outdoor
Washing
Give your deck a good power wash along with your deck furniture before storing and wrapping it for the winter.
Wipe down window ledges and check for any weather stripping and caulking.
Clean out those gutters!
Drain and store your garden hoses.
Keep the power washer handy to clean the exterior of the garage and any sheds. Take the time to reorganize in the inside so you are ready for spring yard season!
Lawn Mower
Drain the lawn mower of gas.
Clean grass and debris off the body and remove clumps from the undercarriage.
Clean or replace the air filter, if needed.
Change the oil before you store the mower.
Grill (if you don't grill year-round)
Make sure to clean off the grates.
Use hot soapy water to clean off the exterior from the summer grilling.
Disconnect the propone and store away from the grill. If storing outside, make sure you have a solid cover.
** This is a great time to donate any unwanted/unneeded patio furniture, garden tools, lawn mowers, grills, windows and doors to ReStore! OR if you need to make a few repairs before winter, stop in to find items to help with those quick fixes.
Inside
Washing
Windows! You know the inside and outside of the windows have collected a layer of dust and grime from the simmer. Time to get the grime off!
Clean the curtains and blinds while you are at it.
Wash the lighting fixtures. You want your holiday décor to shine bright!
Organize
Take a peek through the kitchen cabinets to make sure you are ready for the holiday baking season.
Clean and make sure all small appliances are in working order.
** Did you know we take and sell small appliances? Donate your unwanted/unneeded blenders, mixers and wine-fridges! Looking for new lighting, a cute new rug, touch up a room with a new coat of paint or pick up some cute holiday décor- we have it!
Stop by and see the great items and great prices.
Ginger
ReStore Manager