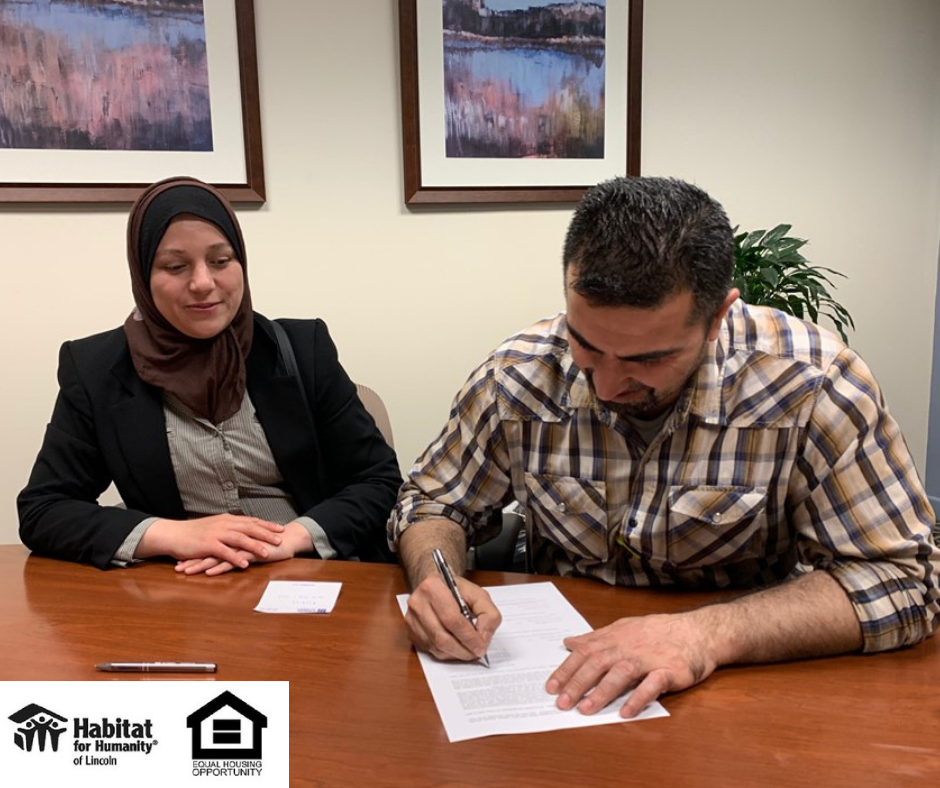 Well, making that happen is achievable.
Here at Habitat Lincoln we believe every family deserves a decent place to live.
Can anyone apply for a Habitat home? Yes, Habitat for Humanity of Lincoln is an Equal Housing Lender organization. Loan decisions are made without regard to race, color, religion, sex, national origin, handicap or familial status. Our homebuyer program applications are available at our office from August 15 through September 5.
What are the criteria for Habitat Homebuyer Applications?
Habitat looks at 3 guidelines in qualifying for our homebuyer program:
1.    Need for Housing
The applicant(s) must demonstrate that their current housing situation has one or more of the following characteristics:     
Living in an unsafe or poor condition home
Living space is overcrowded
Living in transitional, subsidized, or public housing
Family is paying more than 30% of gross income on rent
2.    Willingness to Partner with Habitat
The applicant must be willing to partner with Habitat, it's about doing the work- the hard work to bring your dream to life.
Complete sweat equity hours towards your home. This will require 300 hours of sweat equity for a single adult, and 400 hours of sweat equity for 2 adults
It's open communication and willingness to attend pre-arranged meetings with us
Applicant must be willing to attend required workshops for success in homeownership
Making timely mortgage payments
Being a good neighbor
Being a positive representative of Habitat for Humanity of Lincoln
3.    Ability to Pay
Applicants must demonstrate their ability to make mortgage payments.
Must meet the income guidelines
Two years of stable income
An acceptable credit history, which includes a good record of paying rent and utilities
Bankruptcies must have been discharged for at least three (3) years
Ability to cover closing costs and down payment
Ability to pay monthly mortgage, which includes property tax and homeowner's insurance
Must be a US citizen or permanent resident
How do you apply for the Habitat Lincoln Homebuyer Program and how long is the application process?
You can apply by one of three ways:
1.       Attend an informational meeting, that will talk about the program, and give some general guidelines on homebuyer qualifications. You can then pick up an application packet. You will not have time to fill the application out at the meetings - you will need to take it home and return it to the Habitat for Humanity office later. These informal homebuyer meetings will be held at the following locations:
Saturday August 17, 10:00 am at Carol Yoakum Center (4621 NW 48th St, Lincoln NE 68524)
Tuesday August 20, 10:00 am at ConnectioN Point (1333 N 33rd St, Lincoln, NE 68503)
Wednesday August 21, 6:00 pm at Habitat Lincoln Office (4615 Orchard St, Lincoln, NE 68503)
2.       Stop by the office and pick up an application packet during normal business hours 8:30 am - 4:30 pm Monday through Friday.
3.       Download an application packet from our website at www.lincolnhabitat.org
Once you have filled out the application:
Make sure all questions are answered and all supporting documents are included
Return it along with your $15.00 application fee to the Habitat office (4615 Orchard St. between 8:30 am – 4:30 pm Monday through Friday)
The application period is from August 15 to September 5, 2019. Applications turned in after September 5 will not be considered.
Application process can take up to 30 days. You will be notified by a letter in the mail letting you know the status of your application. You do not need to follow-up on your application.
Remember, we are here to help. You can call our Homeownership Coordinator, Theresa, at (402)-480-6205 if you have questions or need assistance.