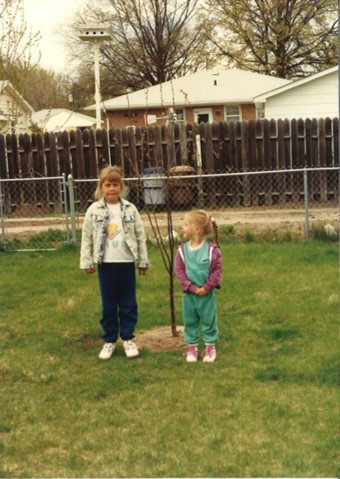 …because I grew up in a decent, affordable home. It wasn't a Habitat home, but it was simple nonetheless. I think back to my childhood home – nothing fancy. We had three bedrooms, 1.25 bathrooms, basement, garage and a backyard. My little sister and I shared a room FOREVER…ok, what felt like forever! The walls were painted a nasty bright green color and the shag carpet matched the walls! We had pink bedspreads and my grandma made us Sesame Street themed curtains. I had my summer birthday parties in the backyard with my neighborhood friends. One year the theme was bubbles and we used giant trays and metal hangers to make big bubbles.  
I have memories of playing in the backyard on the swing set and in the sandbox; riding my bike up-and-down the block; planting a cherry tree in the backyard; family dinner at the dining room table; bedtime stories; sleepovers with friends; and yes, sharing a room with my sister.  
I didn't have the best-of-the-best, but because we had a stable and secure home, I grew up with strong friendships I still have today. I had teachers who became mentors. I was involved in band and activities at church. My sister and I shared a hand-me-down car. I went away to college. I achieved the American dream.  
I think about the 100's of upcoming applicants. I remember the interviews I've listened to on previous years. I look at the photos I've taken where future homeowners live, of the water damage, the mice, the mold, and the overcrowding.  
I think about the Habitat homeowners I've met along the way; those who have lived in their homes for years, and those just purchasing their homes, and some working hard to build their new future. And I know the possibilities that await them.  
I do Habitat because I am a product of a decent, affordable home. And I want to be able to provide the opportunities and blessings I've had to others. 
Christina Zink