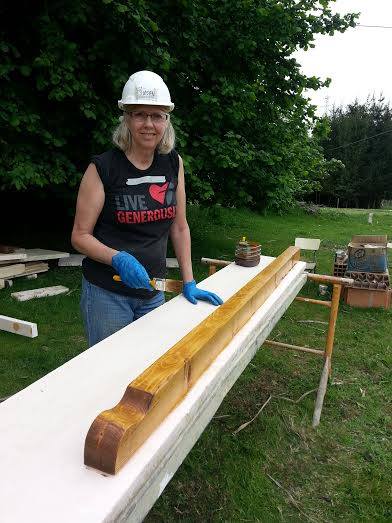 Hard-working, outgoing, and dedicated are a few words to describe, Susan Portsche. In honor of Women Build Week 2018, we would like to spotlight Susan, a volunteer who has done a lot for Habitat for Humanity of Lincoln and been involved with numerous Women Builds. Susan has been a volunteering with Habitat for Humanity of Lincoln since 2006, after organizing a group of women from State Farm to participate in Habitat for Humanity of Lincoln's first National Women Build Week. Susan served as a member of our Board of Directors, went to Braga, Portugal for a Habitat Global Village volunteer trip, is currently a regular crew member on our construction crew, and was named Habitat Lincoln's Women of the Year in 2017.
Susan is our only female regular construction volunteer, and she takes pride in being involved with Habitat for Humanity of Lincoln. Being passionate about Habitat for Humanity, Susan has encouraged community members to get involved, in hopes to continue our mission of building safe, decent housing in Lancaster County. After many years of volunteering Susan has become a role model for all women on the construction site. "You typically don't see women in construction, so I feel this is a way to introduce them to construction." Susan has taken her experience and put it to great use as a leader on our construction site.
She is proud to have been a part of several Women Build Weeks. "Being a woman, the Women's Build is an exciting time," Susan says. "Women are encouraged to volunteer, and with the regular male volunteers' training can learn what it takes to build a home." Susan's dedication to Habitat for Humanity of Lincoln has made a huge impact on our mission.
Thank you, Susan, for all you do!