At Home with Habitat Lincoln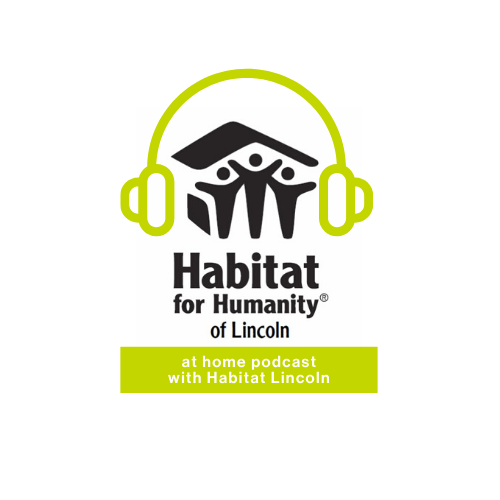 Every April we participate in a branding campaign, Home is the Key, to spotlight Habitat's work across the country and in our community.
Traditionally we post photos and stories of the need for affordable housing and the impact you have but this year we decided to try something new. Our development director, Christina, had a crazy idea to host a podcast mini-series to delve deeper into the Habitat Lincoln and our boss told her to go for it!
Have we done this before? No. Are we perfect at it? No. Did we have fun? Yes! Are we excited to share it with you? Yes!
"At home with Habitat Lincoln" is our four-part mini-series, where you'll hear from Habitat homeowners, ReStore team, our CEO, and more. We hope you enjoy being "at home" with us!
We also want to thank Arrive Coworking for the inspiration to do the podcast and the utilization of their podcast studio. Arrive Coworking and Community is a coworking space in Lincoln whose mission is to support female entrepreneurs in their community by offering affordable work space, networking events, and educational opportunities. Thank you for sponsoring our podcast adventure!
Click on the episode numbers below to download each episode.
In this episode, Christina had the opportunity to interview Carly, who grew up in a Habitat home. Carly shares her firsthand experience of how safe, affordable housing changed her life.

Christina has a conversation with Habitat ReStore Lincoln manager, Ginger to take a deeper look into donations and how you can get involved as a volunteer.

This episode provides an inside look at our homeownership program with Theresa, our homeownership coordinator. She provides incredible insight into the application process, how she works with future homeowners to become good neighbors and successful homeowners, and what motivates her. Theresa recently celebrated one-year in this position and 2.5 years with Habitat Lincoln!

The final episode in our podcast mini-series is a conversation with our CEO, Josh Hanshaw. Josh shares importance of affordable housing and the challenges and goals for the future of Habitat Lincoln.