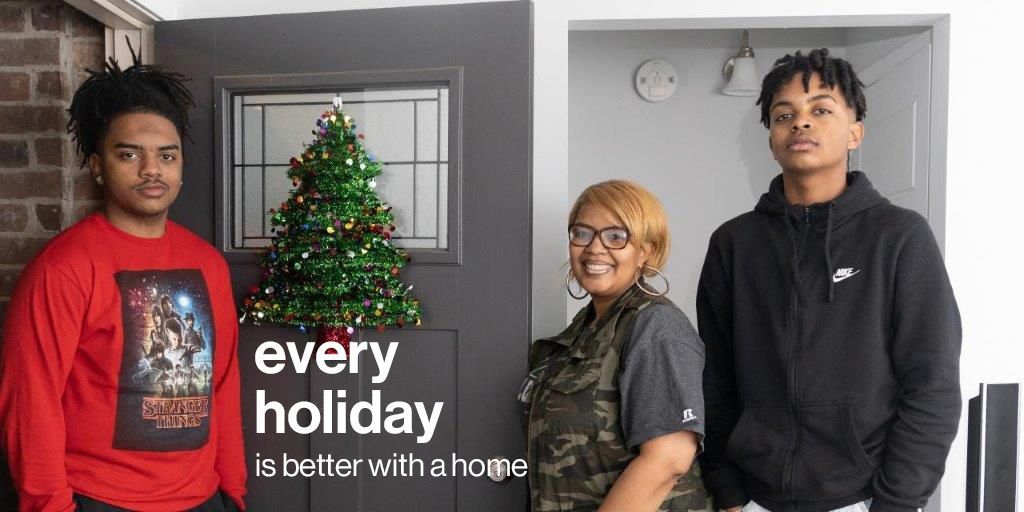 Every child needs a place to call home, a place where they can play, dream and plan for their future.
The words, "Home for the holidays" for many of us, has traditionally been a magical time of year when we look forward to gathering together with our families and friends to celebrate the season in the warmth and comfort of our homes.
This year, the holiday season will most likely look different for so many of us. As we face the continued impacts of COVID-19, phrases like, "safer at home" and "shelter in place" have highlighted the importance of home as never before and many of us are now questioning what the "new normal" might be.
Before COVID-19, more than 18 million U.S. households — 1 in 6 — were spending half or more of their income on housing. With the significant economic impacts of the pandemic continuing to unfold, the number of families struggling to make ends meet is only growing. COVID-19 has further exposed the inequality in communities already suffering as a result of systemic racism in housing policy.
This holiday season, you have the opportunity to help shape a portion of the new normal by investing in Habitat Lincoln families. Your donation helps to build affordable homes for future first-time homeowners, repair homes allowing people age in place in their own homes and provide financial assistance for homeowners struggling economically during the pandemic.
When you make a one time or monthly gift to Habitat Lincoln this holiday season, you are helping ensure that a family has the opportunity to safely celebrate the holidays at home this year. Thank you very much for your compassion for the families who urgently need secure housing — this season and every day of the year.
---
The federal government has made efforts to encourage charitable giving and to protect your assets. Here are a few of the changes that have come from the recent CARES Act: 
For donors who choose to itemize, for the 2020 tax year, deductions for cash contributions to public charities can now qualify for up to 100% of adjusted gross income (normally limited to 60%)
If you have retirement account assets, for the 2020 tax year, required minimum distributions from individual retirement accounts are waived. Charitable giving from IRAs still is a powerful tool in lowering ordinary income tax.
For the 2020 tax year, tax filers who do not itemize their deductions are eligible to claim an "above the line" or "universal" charitable deduction of up to $300.
 For the 2020 tax year, corporate givers can now qualify for deductions up to 25% of taxable income (normally limited to 10%).
We encourage you to reach out to your advisor, your accountant, and your attorney since each person's situation will be different.
---