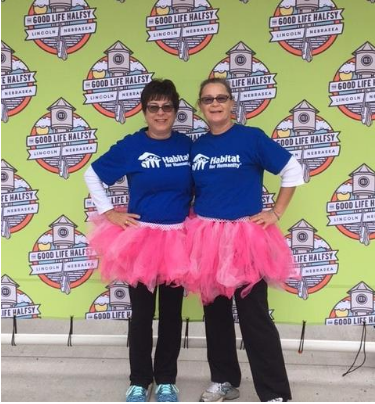 Support Habitat Lincoln & The Good Life Halfsy
Habitat for Humanity of Lincoln is partnering with the Good Life Halfsy, the half marathon hosted in Lincoln. As a partner, we have multiple ways for you to get involved to raise funds to build decent, affordable housing in the Lincoln Nebraska Area. Grab some family or friends to support Habitat for Humanity of Lincoln in the 5th annual Good Life Halfsy!
Volunteer
This year the Good Life Halfsy is on Saturday October 27 and Sunday October 28, and we are looking for volunteers on both days. Our volunteer opportunities range from t-shirt and packet pickup, medal handout, heat blanket hand out, race recovery and railyard hospitality!
We are needing a lot of volunteers for the Good Life Halfsy and are looking for individuals and groups to help us fill these spots! The best part is for every volunteer hour served on our behalf $10 will be donated to Habitat Lincoln and will go towards building homes and hope in our communities. If you are interested, please CLICK HERE, and then click the green "Register" button to view all the available opportunities! 
If you have any question contact Dani at dvallis@lincolnhabitat.org or via phone at 402-480-6219!