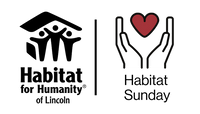 Each year, Habitat for Humanity celebrates World Habitat Day on the first Monday of October to raise our voices and encourage our employees, volunteers, supporters and partners to join us in recognizing the basic right of everyone to adequate shelter. This year, we are asking YOU to join us for a new, unique Habitat Sunday program during the month of October.
What is Habitat Sunday?
Habitat Sunday is a new program to unite all faith communities, across Lincoln and Lancaster County, on an October Sunday of their choice to collect a special offering in honor of World Habitat Day. On your Habitat Sunday, each of your members is challenged to donate a dollar (or more) to the special offering. Can you imagine the collective financial impact, if each member would donate a dollar at each service, at each participating faith organization in our community? Amazing!
You are not alone, Habitat Lincoln is here to help faith communities with additional resources for your Habitat Sunday special offering including, but not limited to:
Temple Talks

Pre-recorded presentation from a Habitat Lincoln staff or board member
Live or Virtual talk from a Habitat Lincoln staff

Special video on our annual Faith Build project
Liturgy suggestions
Collection house banks for youth participation
Hard Hats for special offering collection (in lieu of traditional offering plates- must be returned to Habitat Lincoln)
Prayer Suggestions
Information for Bulletins
Social Media Post Suggestions
We know that the fall can often be a busy time, so we wanted to get on your calendar now. As we plan for Habitat Sunday, we ask that you complete and return the commitment form to help us know how you feel your church can be in partnership by August 31. 
Every dollar raised through Habitat Sunday will be used locally in Lincoln and Lancaster County to further Habitat's work. Together, we can fulfill our missions and goals of serving others and put God's love into action by building homes, communities and hope. 
For additional questions, please contact Christina Zink, Development Director at Habitat Lincoln at czink@lincolnhabitat.org or 402-480-6185.