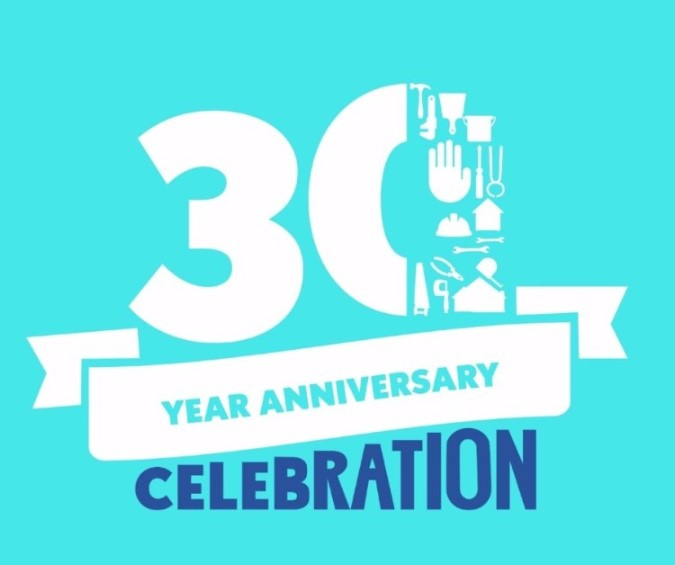 Raise the Roof: Celebrating 30 Years Gala
Oh, what a night! Thank you for celebrating our 30th anniversary with us on Saturday, February 3, 2018. We hope you enjoyed an evening of festivity, honors, cuisine, cocktails and cake and our premiere Toolbelt Fashion Show & Auction! 
Proceeds from the event purchase the required building materials and subcontractors used in building local Habitat for Humanity homes. The evening raised more than $20,000! 
Thank you for your generous support! 
---
---
---
Saturday, February 3, 2018
Habitat for Humanity of Lincoln will be celebrating 30 years of building affordable housing in our community this February. To celebrate, we are throwing a  birthday party! Raise the Roof: Celebrating 30 Years Gala will take place on Saturday, February 3, 2018 from 6:00 - 9:00 p.m. at Creekside Event Barn in Roca, Ne.
The night will be filled with festivity, honors, cuisine, cocktails, desserts, and entertainment.You won't want to miss the premiere Toolbelt Fashion Show & Auction! That's right, a Toolbelt Fashion Show where you will see local businesses and vendors "strut their stuff" modelling their toolbelts, while attendees bid for the toolbelt they want to win! 
Proceeds from the event support the purchase of the required building materials and subcontractors used in building local Habitat for Humanity of Lincoln homes. 
Sponsorship, donations, vendors, table sales and all other inquires: contact Christina Zink at 402-235-8942.
Suggested dress: cocktail casual (What is cocktail casual: men could wear dark suits (with or without a tie), dress pants with dress shirts, and even a nice pair of jeans with a sport coat or jacket. Women could wear knee-length skirts or dress pants with a nice sweater or blouse, or go for the classic "little black cocktail dress.") Take it up a notch and add a splash of Habitat Blue or Green to help us celebrate! 
---
Toolbelt Fashion Show & Auction
PAMPER YOURSELF 
"Wine is the answer…what was the question?" How about a toolbelt all about you? You'll enjoy a wine tasting for eight, appetizers and a tour with Jim Ballard at James Arthur Vineyard. Kick-back at home in your slippers with a bottle of wine, two wine glasses and Bakers Chocolates. Continue to relax with a trip to Urbane Salon & Day Spa in Omaha for hair care, nails, or a massage. Also included is Aveda hand relief crème, rosemary mint body wash, and Aveda Lip Saver. 
A Night Out
Enjoy a night on the town with your significant other or best friend! Grab drinks, dinner, or dessert at a number of restaurants with a $50 Downtown Lincoln gift card before you "get carried away with life" with tickets to Cirque du Soleil Corteo performing at the Pinnacle Bank Arena on Saturday, May 19. 
MASTER GRILLER 
This toolbelt has everything you need to be ready for grilling season including a charcoal grill, charcoal, and lighter. Take a trip to Fareway Meat Market to stock up on burgers, steaks, chicken, fish – even beer and wine. Try new flavor profiles with three different rubs including Applewood, Brazilian Steakhouse, and High Velocity. You'll be sure not to burn the meat with the 14-piece grilling accessory kit which includes stainless turner, tongs, stuffed burger turner, chicken roaster, basting brush, grill brush, skewers, marinade injector, magnetic grill light, analog meat thermometer, recipes, and a cook book. 
NEW HOME BELT
No one knows what you could use for a new home better than Union Title. They've put together everything you need in your new home toolbelt including the beer! This toolbelt has your go-to tools: hammers, tape measure, pliers, level, flash, light, and a first aid kit for those of us who aren't as handy as we think we are! Plus, a gift card to Home Depot and a gift card to Habitat ReStore. After all that moving, you'll be hungry for pizza from Old Chicago and a couple cold beers. And Trader Joe's has you covered with a bag of groceries to help get your new pantry stocked. 
FITNESS FUN! 
Madonna ProActive will get you active while having fun with this toolbelt. You'll receive a three-month membership, 60 minutes with a personal trainer, 30 minute follow up with a personal trainer, 60 minutes with a registered dietician, 60 minutes with a wellness coach, 60 minute therapeutic massage, and a draw string back pack to carry your gym gear in. To compliment this great package, you'll also get a gift card to SouthPointe Eat Fit Go to fuel your fitness fun! 
FAMILY FUN!
This toolbelt offers year-round family fun. Whether you have kids at home or grandkids you want to spoil; this toolbelt will be loads of fun. Experience a year of adventure, learning, and fun with a Dual Membership at the Lincoln Children's Museum and Lincoln Children's Zoo. Get Lost in Fun for hours at Lost in Fun. Enjoy a day of pumpkin play with a Family Four Pack at Roca Berry Farms. 
ROAD TRIP: KC
Do the winter blues have you ready for a change of scenery? How about a weekend road trip to Kansas City? We've got the car snacks and a $50 Casey's Gas Card to help get you to there and back. While visiting KC unwind with a Smokestack Tour & Tasting for Two at Boulevard Brewery Co. and then enjoy dinner at Bluestem restaurant. Bluestem has received local and national accolades including being named as a 2015, 2016 & 2017 James Beard Semifinalist for "Outstanding Restaurant" for an invigorating marriage of cuisine and hospitality." 
SUPER BOWL 
Whether you're tuning in for the commercials or cheering on Husker alumni playing in the big game, this toolbelt will have something you can cheer for. Stop by Zipline Brewery prior to kick-off to fill up your growler. Snack on three varieties of R.U. Nuts trail mixes. And of course, watch referees make bad calls on a new big screen tv! 
GO BIG RED! 
Brrr…do you feel the Frost in the air? You will with this toolbelt. You'll have four tickets to the Husker Football team's opening home game against Akron on September 1, 2018. Grab some food or beer beforehand with a gift card to Gate25. Bonus: this toolbelt includes a Scott Frost commemorative coin. Plus, start the Husker season with two tickets to a Husker baseball game (date to be determined). 
Thank you to the following auction donors:      
 Awards Unlimited
Bakers Candies
Bluestem Restaurant
Boulevard Brewery Company
Casey's General Store
Dave Wolfe's Ace Hardware 
Denver Museum of Nature & Science 
Downtown Lincoln Association
Eat Fit Go
Fareway Meat Market
Gate25
Glen's True Value
Harland Technology
James Arthur Vineyards
Justin Knight of Perry, Guthery, Haase & Gessford, P.C., L.L.O.
Kabredlo's Properties Inc. 
Ken Koch
Lincoln Children's Museum
Lincoln Children's Zoo
Lincoln Escape Room
Lost in Fun
Madonna ProActive
Pinnacle Bank Arena
R.U. Nuts
Roca Berry Farms
Shane & Sunny Photography
Smoking Gun Jerky
Trader Joe's 
Union Title
Urbane Salon & Day Spa
US Bank Home Mortgage
Zipline Brewing Company
---
Tickets
Tickets are no longer available for purchase.
Event Tickets (6:00 - 9:00 p.m.)
Tickets are $75 or $50 for young professionals (40 and younger). Tickets are available until January 26, 2018. Ticket includes cuisine, dessert, entertainment, special program, and cash bar. 
Reserved tables of eight (8) are $500. For table reservations, contact Christina at (402) 235-4972. 
VIP Cocktail Hour (5:00 - 6:00 p.m.)
Tickets for the VIP Cocktail Reception Hour are $15. Cocktail Hour includes hors d'oeuvres and two (2) drink tickets per ticket. (Drink tickets may be used throughout the event.)  
---
Our Event Sponsors
Silver Nail Sponsor
Bronze Nail Sponsors

Gala Partners