Jerry Boyce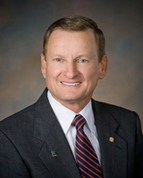 Jerry Boyce is an Independent Contractor Builder managing builds for Habitat for Humanity of Lincoln. Jerry first became aware of Habitat for Humanity of Lincoln by donating the roofing materials and labor to the 2002 Home Builders Association of Lincoln (HBAL) Habitat build and has donated several other HBAL sponsored projects over the years.
After 23 years of buying and rehabbing fixer uppers for their own rental property inventory or for investment resale, Jerry and his wife Linda, switched to new construction in 1994; now building mainly duplexes/townhomes and small apartment projects. They continue to manage and maintain their own rental properties as well as the condominium associations of the projects which they have built.
Jerry obtained his real estate license in 1978 and has been active in the real estate community earning "Realtor of the Year" from the Realtors Association of Lincoln. Additionally serving as President of the Realtors Association of Lincoln, and President of the Homes Builders Association of Lincoln. He is an active volunteer in the community including serving as president of The Bridge Behavioral Health Center board of directors.
"I receive great pleasure in helping create a home, especially for a family in need of decent shelter, who are so thankful and overjoyed; quite often with the tears in their eyes when they receive their nice new home."